Oxidative stress a potent risk factor for thyroid diseases in young pregnant females.
Keywords:
Catalase, Goiter, Iodine Deficiency, Malondialdehyde, Oxidative Stress, Reactive Oxidative Species, Superoxide Dismutase, Thyroglobulin, TSH Receptor Protein, Thyroid Dysfunction, Young Pregnant Females
Abstract
Objective: To evaluate the potent role of oxidative stress in thyroid disease development and progression in young pregnant females during 1st and second trimesters compared with matched healthy pregnant females of the same gestational age. Study Design: Cross-sectional Comparative study. Setting: Institute of Molecular Biology and Biotechnology (IMBB), The University of Lahore, Pakistan. Samples were collected at the Punjab Institute of Nuclear Medicine (PINUM), Faisalabad, and the Department of Obstetrics at DHQ Hospital, Chiniot. Period: July 2019 to July 2021. Material & Methods: Thyroid disease- comorbid pregnant women and euthyroid pregnant women were compared for serum levels of oxidative stress markers and antioxidants. The markers were evaluated between 68 healthy subjects in Group A and 43 subjects in Group B known for having thyroid diseases. Blood samples were taken under highly sterile conditions after gaining written consent from all subjects and stored at –8°c to –30°c. A spectrophotometer at 532nm was used to measure serum concentrations of oxidative stress markers. ELISA kits were used to determine serum levels of triiodothyronine, thyroxin, and thyroid-stimulating hormone. Data was analyzed using independent student t-test, multiple logistic regression, and receiver operating characteristic curve (ROC) analysis using SPSS version 25. Results: Group A and Group B had a mean age of 26.07±4.88 and 29.19±4.17 years, respectively. Pregnant women having thyroid dysfunction had decreased superoxide dismutase levels (0.05±0.01 nmol/ml) than group A (0.06±0.01). Other indicators of lipid peroxidation showed a non-significant mean difference compared between both groups (p>0.05). Multiple linear regression studies revealed healthy pregnant women with a positive thyroid medication history had higher SOD levels among group B than those without antithyroid medicine, with a Beta coefficient of +0.26 and p=0.04. According to ROC curve analysis, the Superoxide Dismutase biomarker area under ROC was 67.25% at p=0.002. Thus, it may be used as a diagnostic and predictive biomarker. A cutoff value of 51.5pg/ml was proposed, at which sensitivity is 79% and specificity is 69%. It can be a diagnostic and predictive biomarker. Conclusion: The results of the current study concluded that oxidative stress can be considered a potent risk factor for the development and progression of thyroid disease in young pregnant females.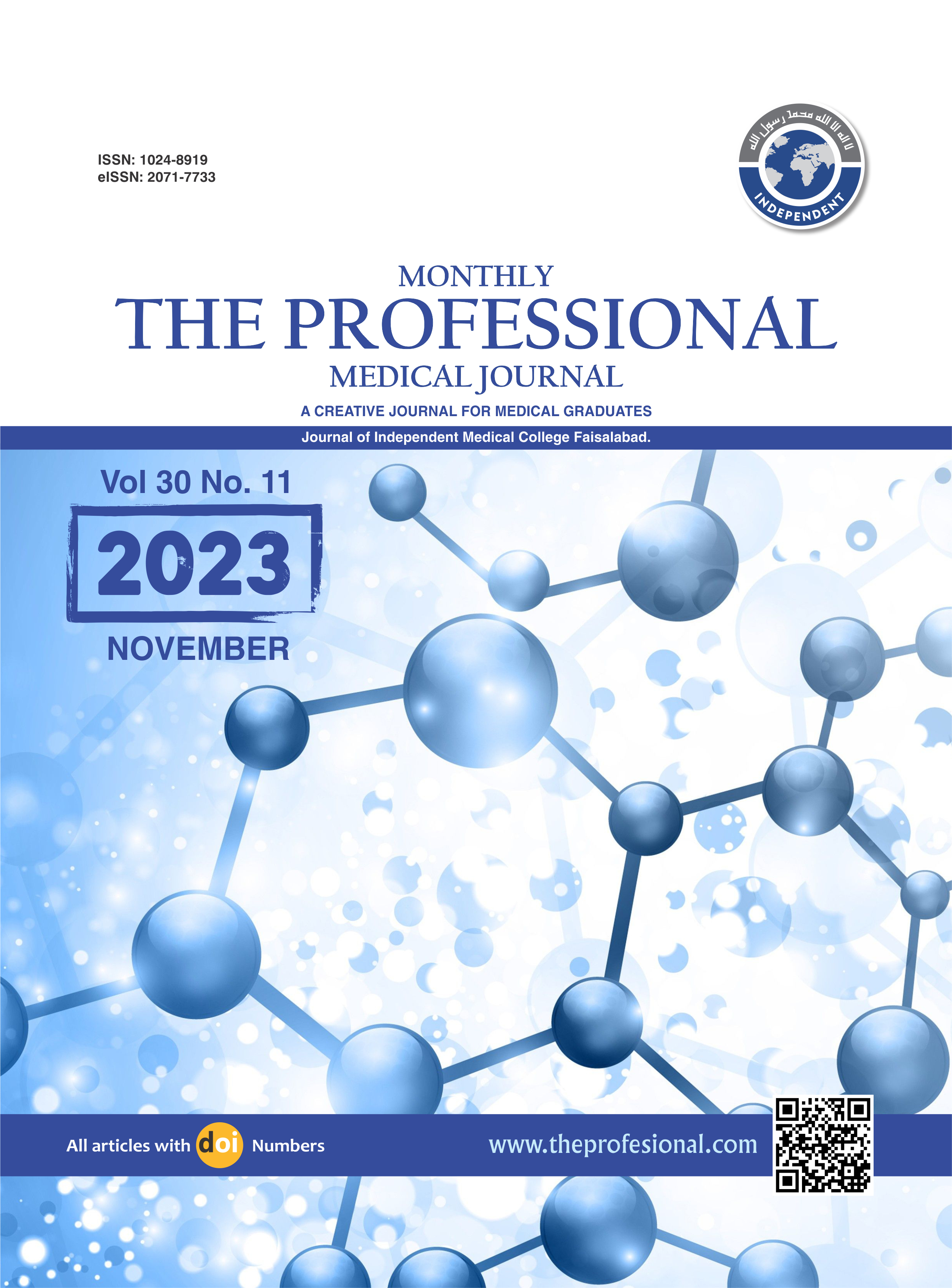 Downloads
License
Copyright (c) 2023 The Professional Medical Journal
This work is licensed under a Creative Commons Attribution-NonCommercial 4.0 International License.