Periodontal health in adequately controlled and inadequately controlled type 2 diabetes: A cross-sectional study.
Keywords:
Clinical Attachment Loss, Diabetes Mellitus, Probing Pocket Depth
Abstract
Objective: To compare health status in term of clinical attachment loss and pocket depth adequately-controlled vs. inadequately-controlled type 2 diabetes. Study Design: Cross-Sectional study. Setting: Department of Periodontology, Khyber College of Dentistry, Peshawar. Period: 1st May 2021 to 30th January 2022. Material & Methods: A total of 142 participants with Type 2 diabetes mellitus (DM), aged between 35 and 65 years, and with a DM duration exceeding 3 years, along with a minimum of seven teeth per arch determined through clinical examination, were included. Participants with type 1 diabetes mellitus, smokers, pregnant women, those on medications inducing gingival enlargement, those who underwent periodontal therapy in the last six months, and patients undergoing orthodontic treatment were excluded. Pocket depth and clinical attachment loss at six points on each reference tooth (including upper and lower first molars, first premolars, and central incisors) were measured using a Michigan 'O' Probe featuring William markings on a periodontal pocket chart. The arithmetic mean value was then calculated. To compare the two groups (adequately controlled diabetics and inadequately controlled diabetics), the mean pocket depth and mean clinical attachment loss were analyzed separately using an independent samples t-test. Results: The mean duration of DM, age, periodontal pocket depth, clinical attachment were 6.42 ±2.76 years, 50.77 ±9.50 years, 4.03 ±0.74mm, and 4.74 ±0.74mm. The males were 80(56%) and females were 62(44%). The mean PPD was less in well controlled (3.45±0.36mm) than poorly controlled diabetes (4.76±0.36mm) statistically significantly (p<0.001). Similarly mean CAL was less in adequately controlled (4.16±0.36mm) than inadequately controlled diabetes (5.47±0.36mm) statistically significantly (p<0.001). Conclusion: Inadequately controlled diabetes mellitus is associated with adverse periodontal health status.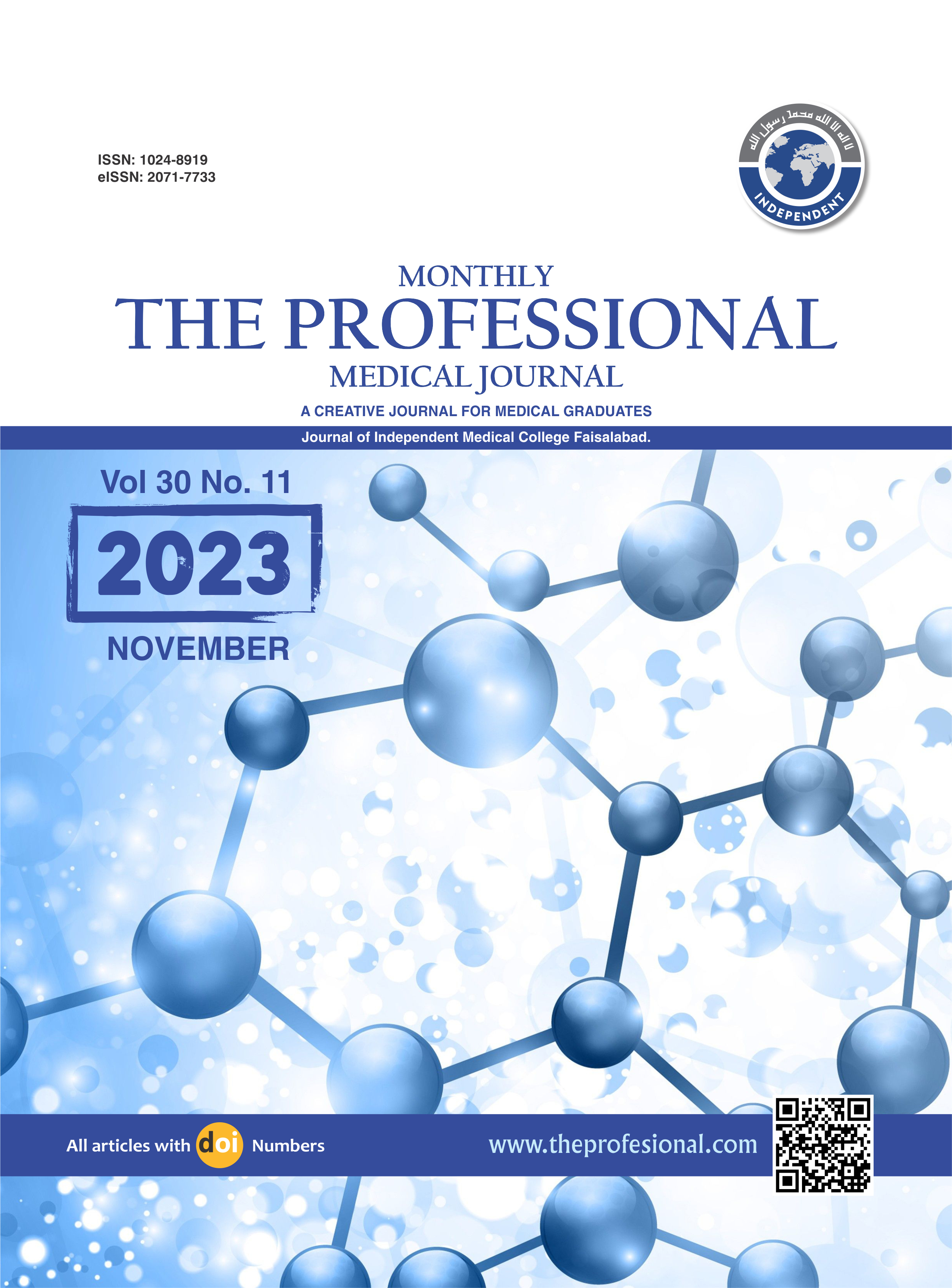 Downloads
License
Copyright (c) 2023 The Professional Medical Journal
This work is licensed under a Creative Commons Attribution-NonCommercial 4.0 International License.