Sonographic changes in ovary after use of tamoxifen in breast cancer.
Keywords:
Breast Cancer, Cancer, Cysts, Duration of Tamoxifen, Ovary, Ovarian Cysts, Tamoxifen
Abstract
Objective: To assess the sonographic changes in ovary after tamoxifen use in BC patients presenting at tertiary care hospital, Karachi, Pakistan. Study Design: Quasi-experimental Investigation. Setting: Department of Oncology, Jinnah Postgraduate Medical Center's. Period: June 2022 to April 2023. Material & Methods: The study targeted all female subjects aged between 25 to 65 years who were identified with hormone receptor-positive BC and had undergone TMF management at a dose of 20 mg/day. Preceding to the instigation of the treatment, the subjects underwent sonographic examination of the ovaries, and the changes were evaluated after 6 months. The presence of sonolucencies exceeding the diameter of 30mm, was regarded as ovarian cysts. SPSS version 23 was used for the statistical analysis of the obtained data. Results: This study's findings imply that the population under investigation had a mean age of 37.94 years (±7.56), while 25.59 kg/m2 (±5.82) was the mean body mass index (BMI). In terms of the duration of use of TMF, it was reported that 47.7% of participants used it for one year or less, whereas 52.3% used it for more than one year. Among the 107 patients with breast cancer (BC), 11.2% developed ovarian cysts following the use of TMF, while 88.8% did not show any evidence of ovarian cysts on sonography. Furthermore, the grade of breast cancer showed a strong association with the occurrence of ovarian cysts, as evidenced by the p-value of 0.035. Conclusion: The consumption of TMF by patients with breast cancer may lead to the growth of ovarian cysts. The grade of breast cancer was found to be significantly linked with the incidence of ovarian cysts, suggesting that higher-grade tumors may have a greater impact on the ovaries.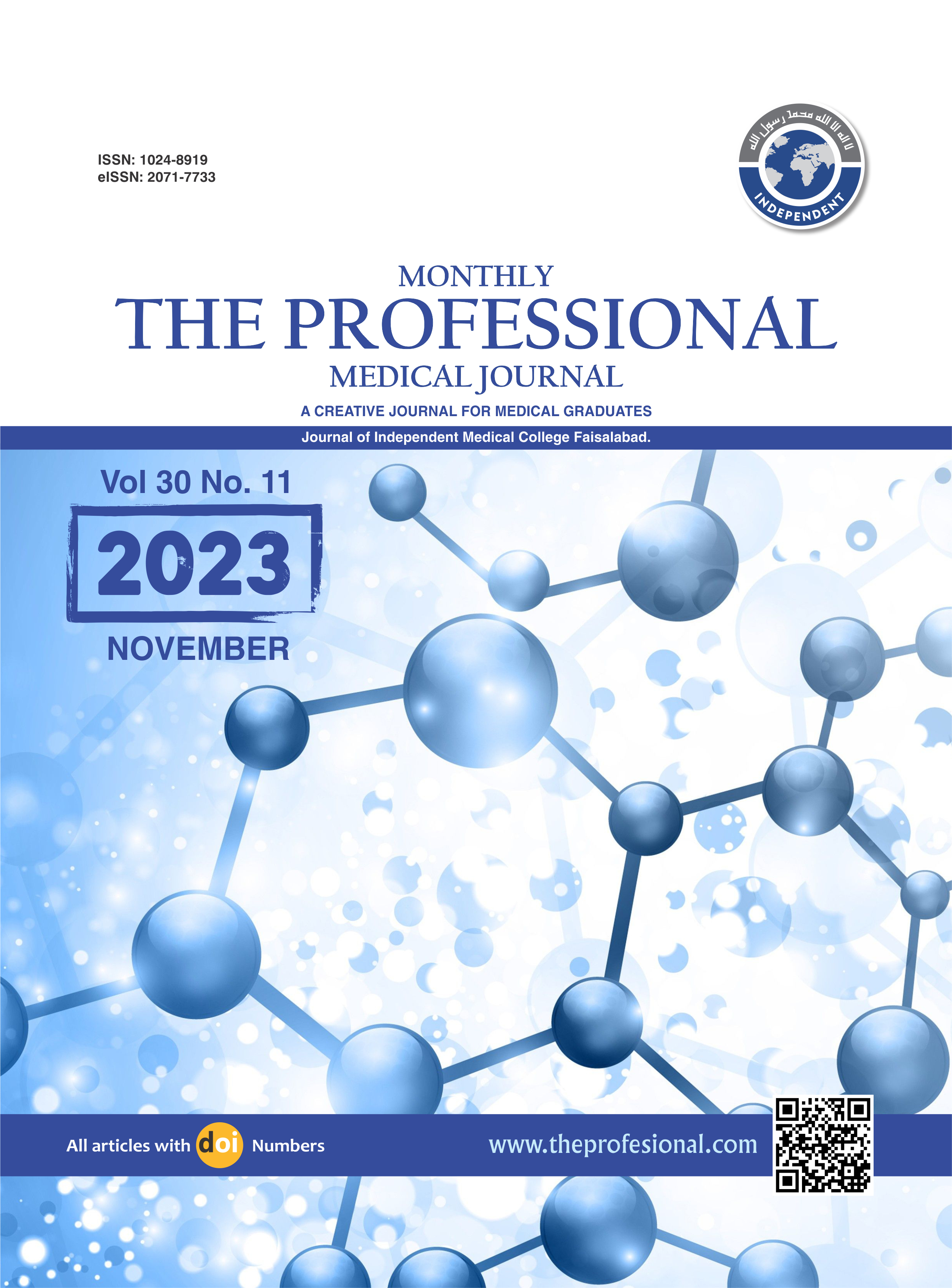 Downloads
License
Copyright (c) 2023 The Professional Medical Journal
This work is licensed under a Creative Commons Attribution-NonCommercial 4.0 International License.