Frequency of causes of acute kidney injury at a children tertiary care hospital.
Keywords:
Acute Kidney Injury, Etiology, Glomerulonephritis, Sepsis, Shock
Abstract
Objective: To determine the frequency of causes of acute kidney injury (AKI) in children at a tertiary care hospital. Study Design: Descriptive, Cross-sectional study. Setting: Department of Pediatric Medicine, The Children's Hospital & Institute of Child Health, Multan. Period: January 2022 to December 2022. Material & Methods: A total of 268 children presenting with AKI were analyzed. Once registered, 5 ml venous blood sample was drawn and sent to the laboratory of the hospital for serum creatinine level and blood culture reports. All the relevant information like age, gender, residential status, monthly family income, maternal literacy and their relation to causes of AKI were noted. Results: In a total of 268 AKI cases, 164 (61.2%) were boys and 104 (38.8%) girls. The mean age was 4.33±2.57 years. There were 163 (60.8%) children who belonged to rural areas and 105 (39.2%) were from urban areas. Family history of AKI was positive in 61 (22.8%) while mothers of 206 (76.9%) cases were literate. Sepsis was noted in 113 (42.2%) cases, glomerulonephritis in 62 (23.1%) and shock in 65 (24.3%). Sepsis was significantly associated with male gender (p=0.001), younger age (p<0.001), low monthly family income (p=0.002) and family history of AKI (p<0.001). Glomerulonephritis was significantly associated with older age (p<0.001) and maternal illiteracy (p=0.045) while shock was significantly associated with female gender (p=0.013) and family history of AKI (p<0.001). Conclusion: Sepsis was the commonest etiological factor for pediatric acute kidney injury followed by shock and glomerulonephritis.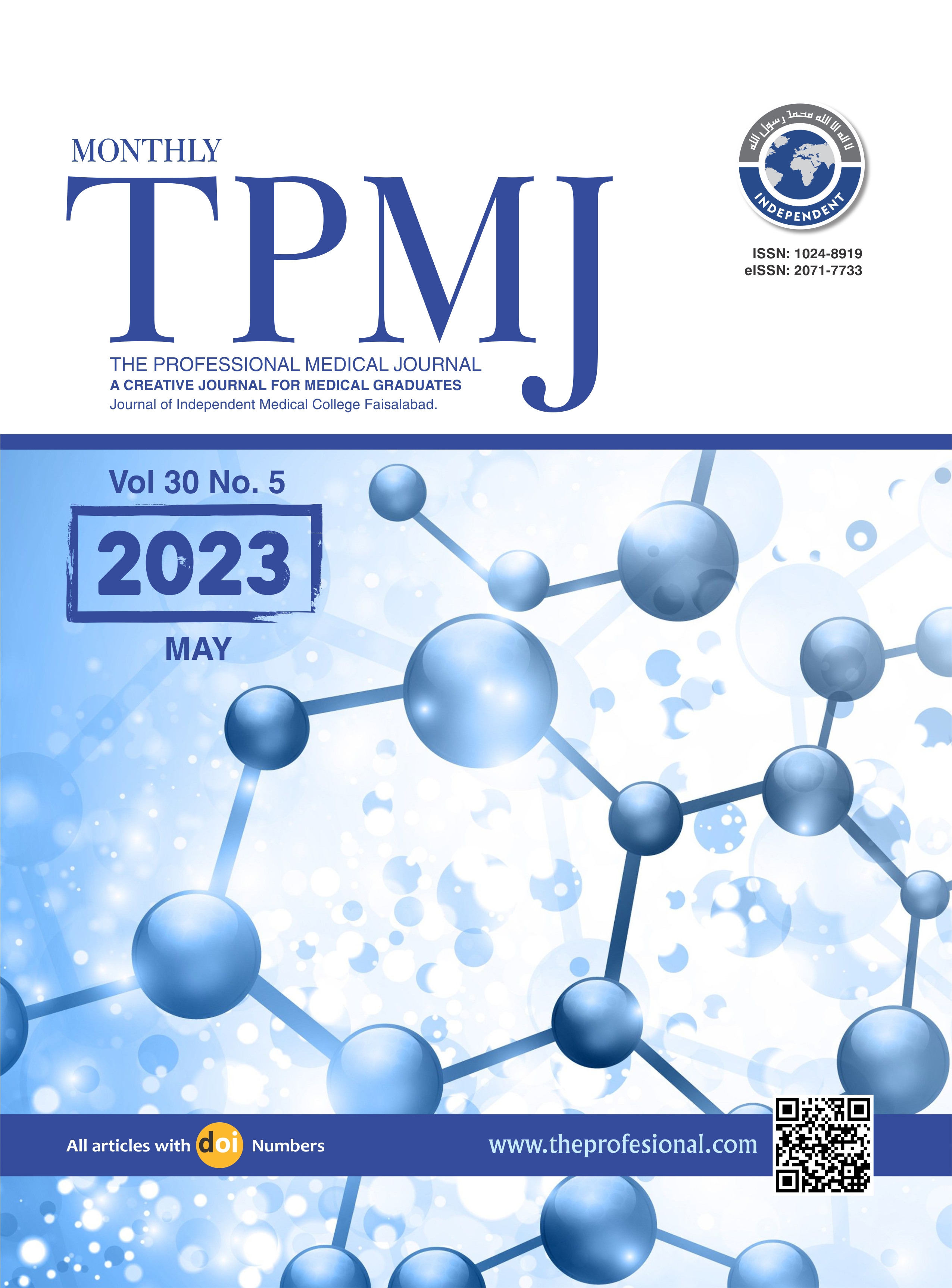 Downloads
License
Copyright (c) 2023 The Professional Medical Journal
This work is licensed under a Creative Commons Attribution-NonCommercial 4.0 International License.