Audit of head and neck defect reconstruction.
Keywords:
Head and Neck, Head and Neck Cancers, Plastic Surgery Procedures, Reconstruction, Trauma
Abstract
Objective: To share our experience with reconstruction of the head and neck defects and to standardize the reconstruction options for such defects. Study Design: Descriptive Cross Sectional study. Setting: Burns and Plastic Surgery Center, Peshawar. Period: November 2018 to December 2022. Material & Methods: Data was collected from medical records about the patient demographics, mechanism of injury and type of procedures done. Defect size was classified into small (< 3 cm), medium (4 cm to 8 cm) and large (> 8 cm). Data was analyzed using SPSS. Results: Over the study period, 112 (70%) male and 48 (30%) female patients, with mean age of 44.36 + 21.35, were operated. The main cause of head and neck defects, were malignant lesions; 60% (n=96) cases. The most common site of was nose, either alone or in combination with surrounding areas. In 54 (33.4%) cases, the reconstructed defects were of medium size, followed by large defects (n=52, 32.5%). In 79 (49.4%) cases, the defects were reconstructed with local flaps, followed by pedicled flaps; 70 (43.8%) cases. Free flap reconstruction was performed in 11 (6.9%) cases. The most common free flap was fibula based (n=4). Complications were observed in 4.4% cases. Conclusion: The most common defects in head and neck region are on nose. In most cases the etiology is lesion excision. Other common defects encountered are scalp, eyelids and ear. Most of the defects can be covered with local flaps with very low complication rate.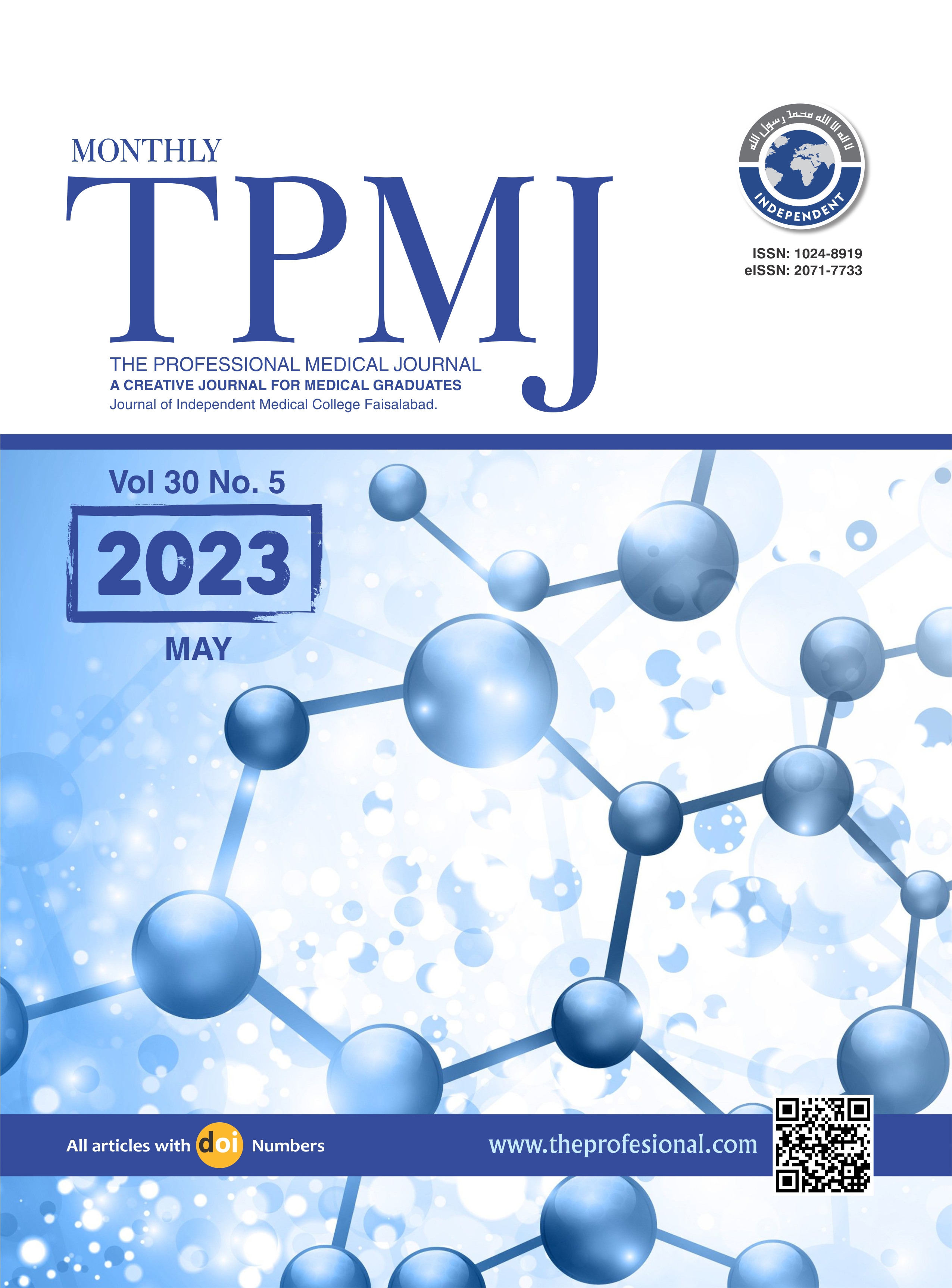 Downloads
License
Copyright (c) 2023 The Professional Medical Journal
This work is licensed under a Creative Commons Attribution-NonCommercial 4.0 International License.