Health-related quality of life in chronic kidney disease; A descriptive study in Pakistan.
Keywords:
Chronic Kidney Disease, Emotional, Physical Health, Quality Of Life
Abstract
Objective: To explore, examine, investigate, analyze, and interpret the harshness or evil effects of chronic kidney disease, and to measure, describe and evaluate the psychological distress level and health associated quality of life in chronic kidney disease patients. Study Design: Descriptive Cross-sectional Survey. Setting: Department of Nephology, DHQ Teaching Hospital, District Dera Ghazi Khan, Province Punjab, Pakistan. Period: 18th December 2020 to 18th April 2021. Material & Methods: Total three hundred and seventy two (372) _chronic kidney disease patients participated and were enrolled in this research. Kidney Disease Quality of Life-Short Form was selected and utilized to explore, examine, investigate, and describe the health associated quality of life. General Health Questionnaire (GHQ) was utilized and used to identify and determine the psychological distress. Results: revealed that most respondents 29.8% ratified poor or worse health. 63.29% participants extremely or strongly limited their physical activities.78.5% of respondents reduced duration of time on their work. 29.8% of the respondent's emotional/physical health problems/troubles restricted or interfered with their social activities for most of the time. Only 24.3% of the study participants had positive emotional health for most of the time or often they felt relax, happy and cheerful. 48.1% of the respondents were somewhat/moderately satisfied about the support and aid taken or received from family and friends. Conclusion: In conclusion, we found a negative or poor health associated and related quality or attribute of life of chronic renal disorder.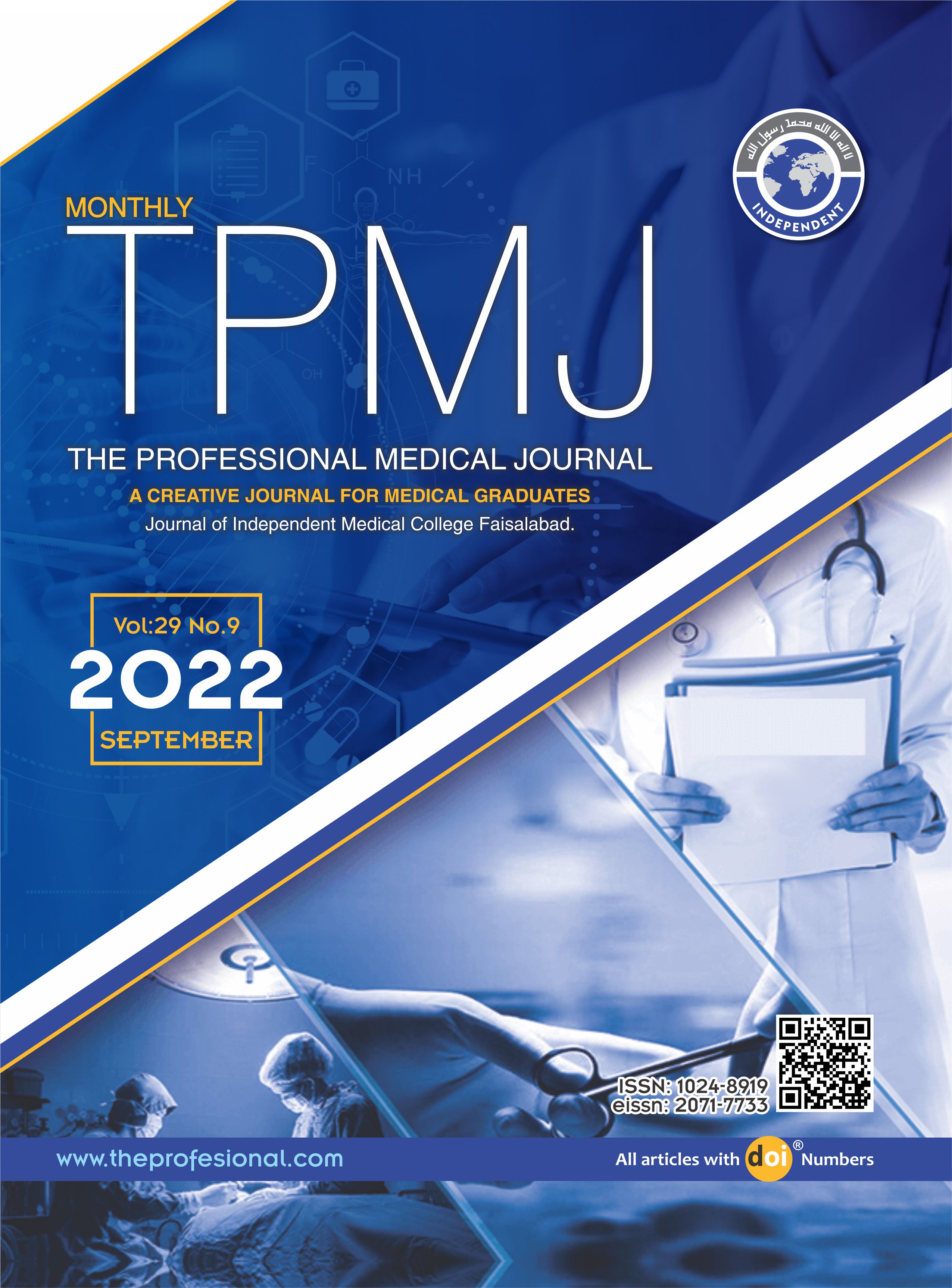 Downloads
License
Copyright (c) 2022 The Professional Medical Journal
This work is licensed under a Creative Commons Attribution-NonCommercial 4.0 International License.