Hyperbilirubinemia as a new predictor of appendicular perforation in acute appendicitis.
Keywords:
Diagnostic Accuracy, Hyperbilirubinemia, Histology, Appendicular Perforation
Abstract
Objective: To find the diagnostic accuracy of hyperbilirubinemia as a prediction of appendicular perforation in acute appendicitis. Study Design: Cross Sectional study. Setting: Department of Surgery, Allama Iqbal Medical College/ Jinnah Hospital Lahore. Period: March 2019 to March 2020. Material & Methods: A total 345 patients meeting selection criteria were included. Serum bilirubin was measured pre-operatively and histopathology of specimen was collected. The data was analyzed using SPSS v 26 and mean ± SD, frequency and percentages were calculated. Results: There were 214(62%) males and 131(38%) females. On histopathology perforated appendicitis was seen in 70(20.3%) and 275(79.7%) cases had non-perforated appendicitis. A total of 77(22.3%) cases had hyperbilirubinemia and 268(77.7%) of the cases had normal bilirubin level. The sensitivity, specificity, PPV, NPV and diagnostic accuracy of hyperbilirubinemia was 90%, 94.91%, 81.82%, 97.39%, 93.91% respectively. Conclusion: The diagnostic accuracy of hyperbilirubinemia is high enough to identify early detection of perforated appendicitis. Hence, by early identification and appropriate management techniques, potentially life-threatening complications can be minimized.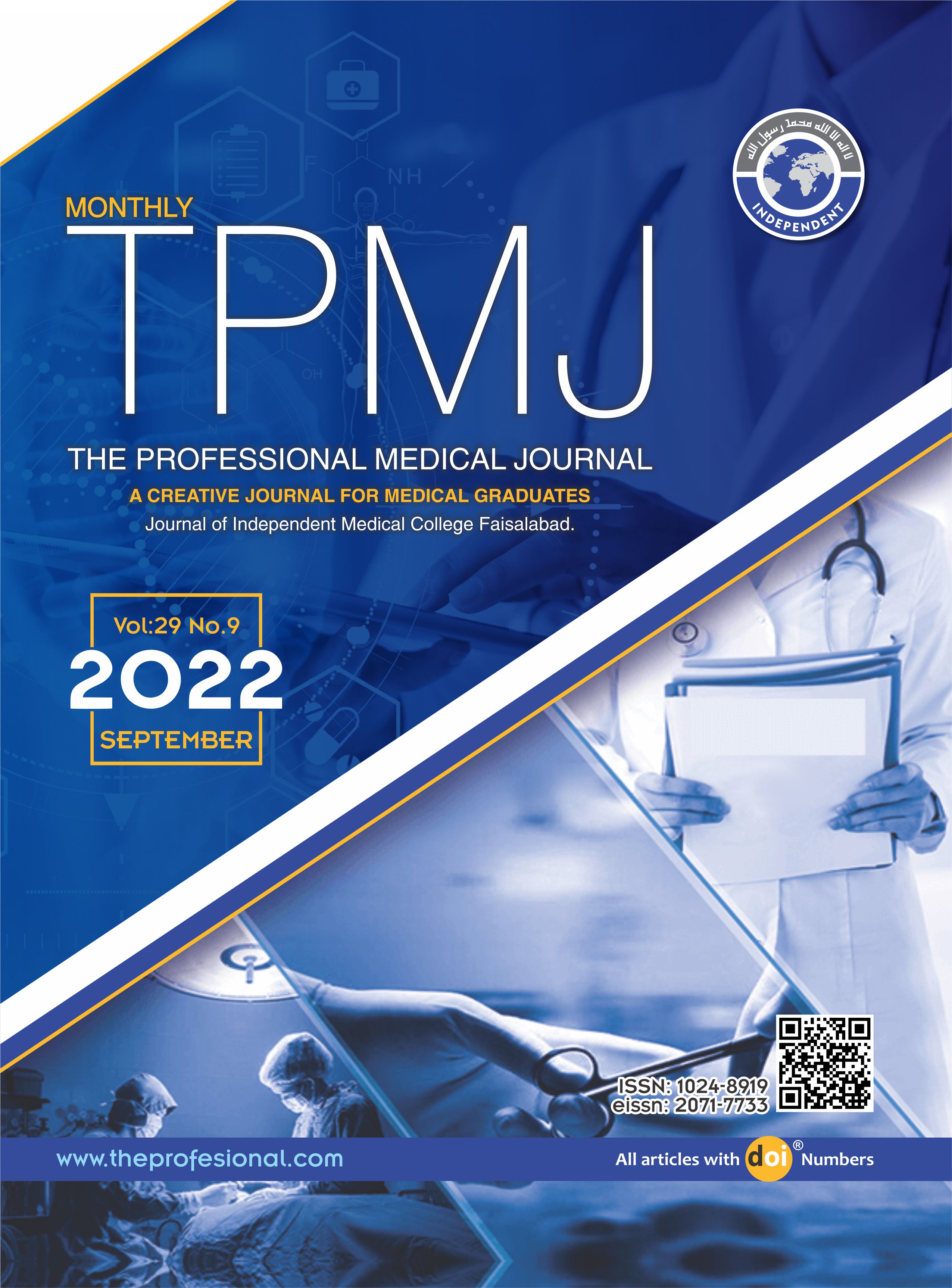 Downloads
License
Copyright (c) 2022 The Professional Medical Journal
This work is licensed under a Creative Commons Attribution-NonCommercial 4.0 International License.