Frequency of various histopathological types of prostatic diseases in a Tertiary Care Hospital at Karachi.
Keywords:
Benign Prostate Hyperplasia (BPH), Prostatectomies, Prostate Adenocarcinoma, Transurethral Resection of Rostate (TURP)
Abstract
Objective: To assess the frequencies of various histopathological pattern of prostatic diseases in a tertiary care hospital at Karachi. Study Design: Cross Sectional Observational. Setting: Department of Pathology, Pakistan Navy Station Shifa Hospital, Karachi. Period: January 2018 to February 2019. Material & Methods: Our study comprised of 160 Prostatic specimen including prostatectomies and Transurethral resection of prostate (TURP). All malignancies were graded according to Modified Gleason score for diagnostics and to calculate the frequency. Data was evaluated by using SPSS version 23. All frequencies were determined in terms of percentages. Results: A total of 160 prostatic samples comprised of 123 (76.87%) benign and 37(23.12%) malignant cases. Both transuretheral prostatectomies (84.4%) and radical prostatectomies specimens (15.6%) were included in the study Benign cases were diagnosed as only benign prostatic hyperplasia (BPH) 93.49%. Moreover, additional findings observed in the benign cases alongside benign prostatic hyperplasia were Acute/chronic prostatitis in 4% samples, granulomatous prostatitis in 1.6% cases and eosinophilic prostatitis in 0.8% case. In the malignant cases, majority of the cases were of prostatic acinar adenocarcinoma n=35(94.6%) while 2(5.4%) cases exhibited transitional cell carcinoma, perineural invasion was seen in 10 cases. Conclusion: Hyperplasia of prostate was reported in majority of the cases in our set up the most individuals were in the age group was 61-70 years. Adenocarcinoma of the prostate, was less commonly diagnosed in the age group of 51-60 years.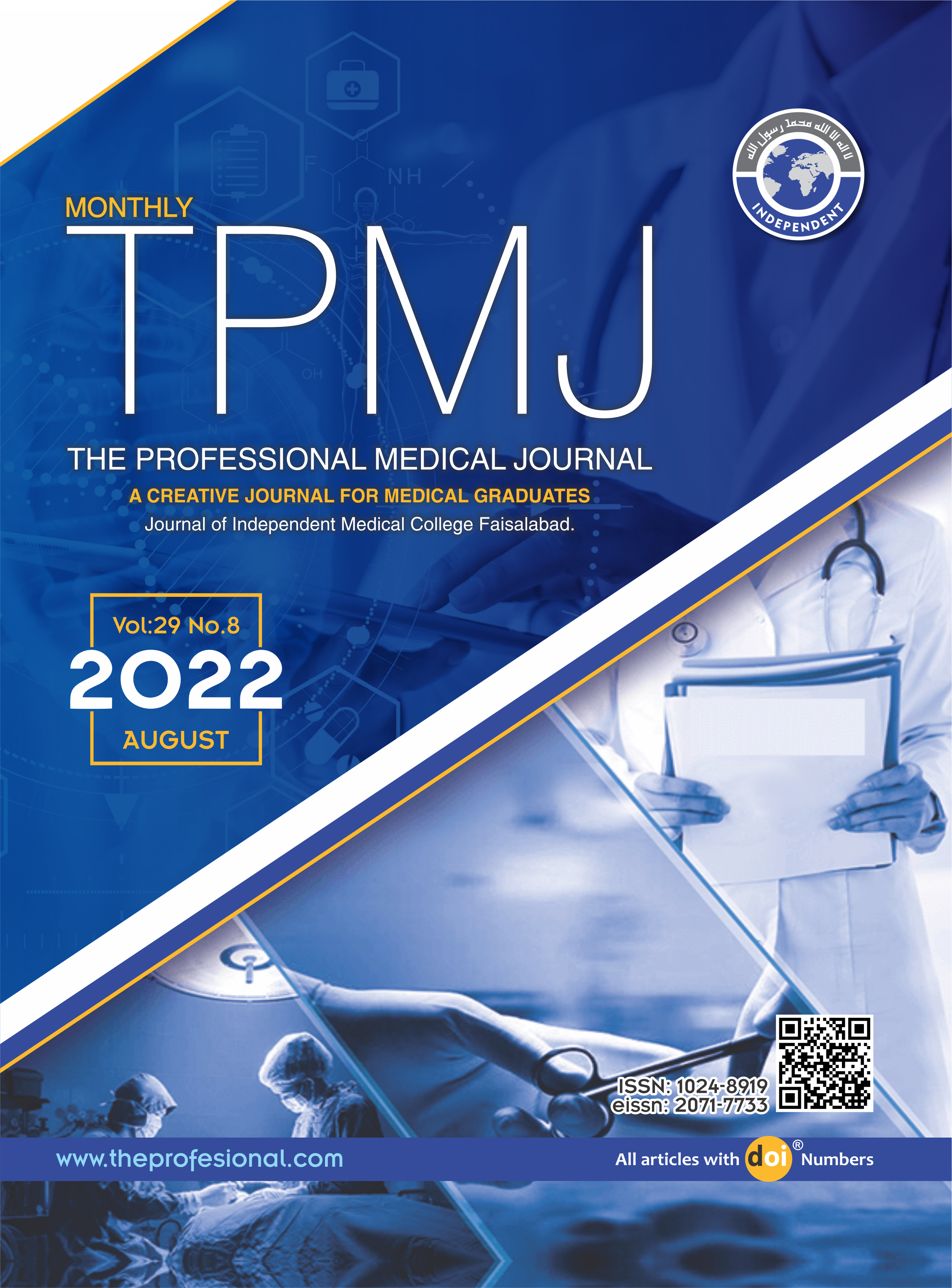 Downloads
License
Copyright (c) 2022 The Professional Medical Journal
This work is licensed under a Creative Commons Attribution-NonCommercial 4.0 International License.