Histopathological changes due to Gold Kushta in kidneys of Wistar Rats.
Keywords:
Adenocarcinoma, Cholecystectomy, Cholelithiasis, Demographic, Histopathological, Macroscopic Examination
Abstract
Objective: To evaluate the histopathological effects of Gold Kushta in kidneys of Wistar rats. Study Design: Experimental study. Setting: Department of Pathology, Sahiwal Medical College, Sahiwal. Period: 1st of July 2019 till 31st December 2019. Material & Methods: The experimental study was conducted on a total of 28 wistar rats of 6 – 8 weeks of age and weighing 200 – 250 grams which were then randomly divided into 4 groups each containing 7 rats. The groups were labelled as G I, II, III and IV. These groups were given preparations of gold in the form of kushta for a period of 8 weeks. The gold kushta was given in the form of pellets. Group I was taken as Control, G II was given single dose kushta 0.15 mg and G III was given double dose kushta 0.3mg on alternate days. Group IV was given a single dose of BSA (bovine serum albumin) 75mg (250mg/kg body wt) at the start of experiment and Gold kushta 0.3 mg on alternate days. Histopathological changes were then seen in mesangium, capillary walls and tubules of kidneys of wistar rats. Results: All the parameters were normal in Group 1 while in Groups II, III and IV mesangial proliferation was increased and more diffuse with thickened capillary walls. The cellularity was normal in Group 1 rats but it increased in all the rats of Groups II, III and IV. Mesangial proliferation was greatest in Group IV. None of the rats in Group 1 had epithelial necrosis, dilatation or casts. Epithelial necrosis, dilatation and protein casts were all seen in most of the rats in Groups II, III and IV. Conclusion: Thus, gold kushta has detrimental effects over kidneys of wistar rats. These effects are thus increased by concomitant exposure to bovine serum albumin.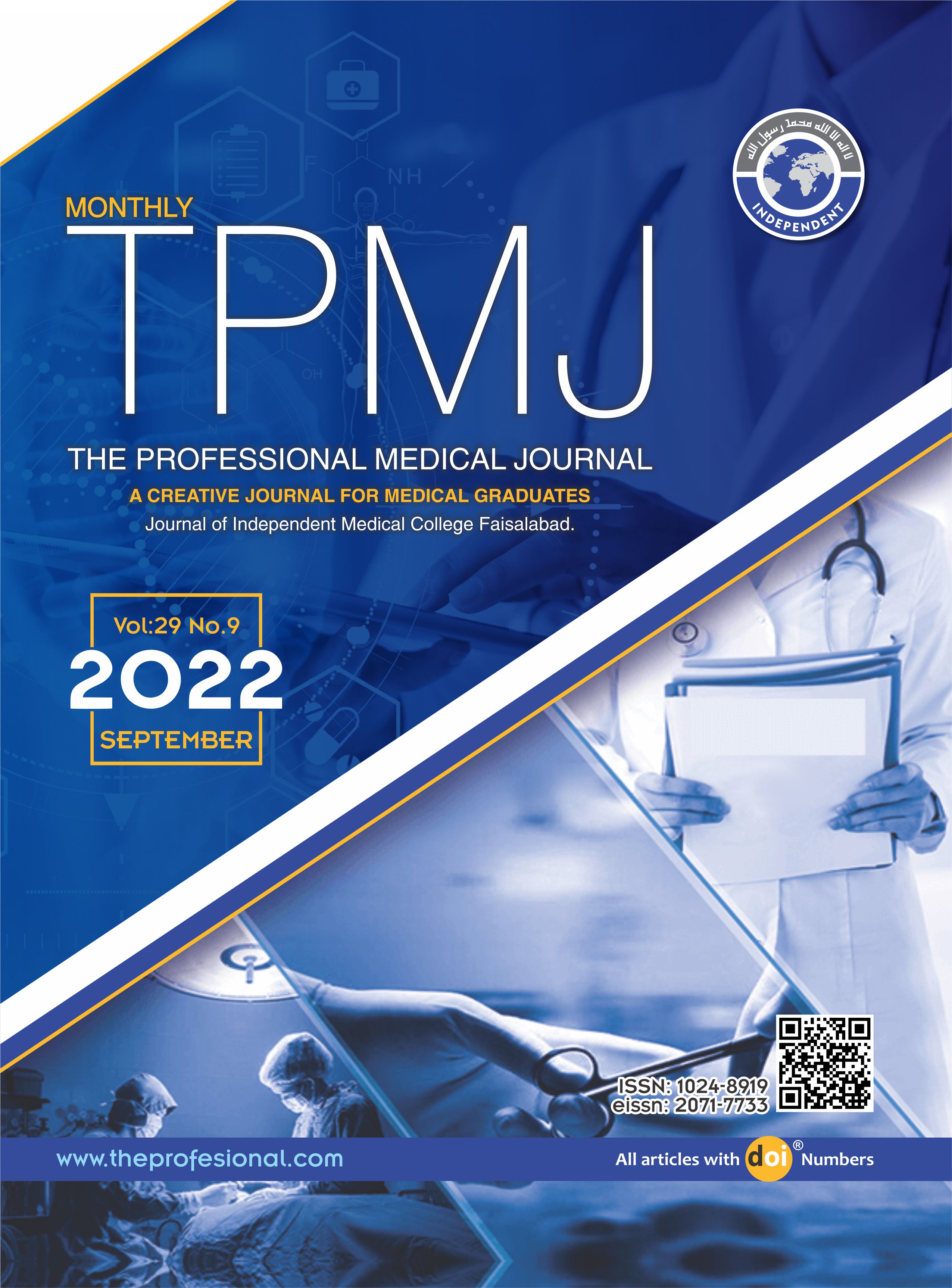 Downloads
License
Copyright (c) 2022 The Professional Medical Journal
This work is licensed under a Creative Commons Attribution-NonCommercial 4.0 International License.