Frequency of anxiety and depression among patients of pulmonary tuberculosis.
Keywords:
Anxiety, Depression, Pulmonary Tuberculosis
Abstract
Objective: To assess the frequency of Anxiety and Depression among patients of Pulmonary Tuberculosis. Study Design: Cross Sectional study. Setting: Tuberculosis Bacilli (TB) Hospital attached with Pir Syed Abdul Qadir Shah Jeelani Institute of Medical Sciences, GAMBAT, Kairpur Mirs, Sindh, Pakistan. Period: 1st August 2019 t0 30th November 2019. Material & Methods: Patients of both gender between ages of 18 to 60 years, having diagnosis of Pulmonary Tuberculosis were enrolled. Anxiety and Depression were assessed through Hospital Anxiety and Depression Scale (HADS). The collected data was analyzed by Statistical Packages for Social Sciences (SPSS) version 22.0. Results: Majority 67(59.8%) were females, married 71 (63.4%), Sindhi speaking 108 (96.40%) educated till primary 81 (72.30%) and household by occupation 47 (42.00%). Frequency of Depression and Anxiety was 62 (55.4%) and 59 (52.7%) respectively. Statistically Anxiety and Depression were significantly associated with Pulmonary Tuberculosis regarding its diagnosis as first time, relapsed case or resistant case having p value of less than 0.05. Conclusion: It is concluded that Anxiety and Depression are highly prevalent among patients of Pulmonary Tuberculosis.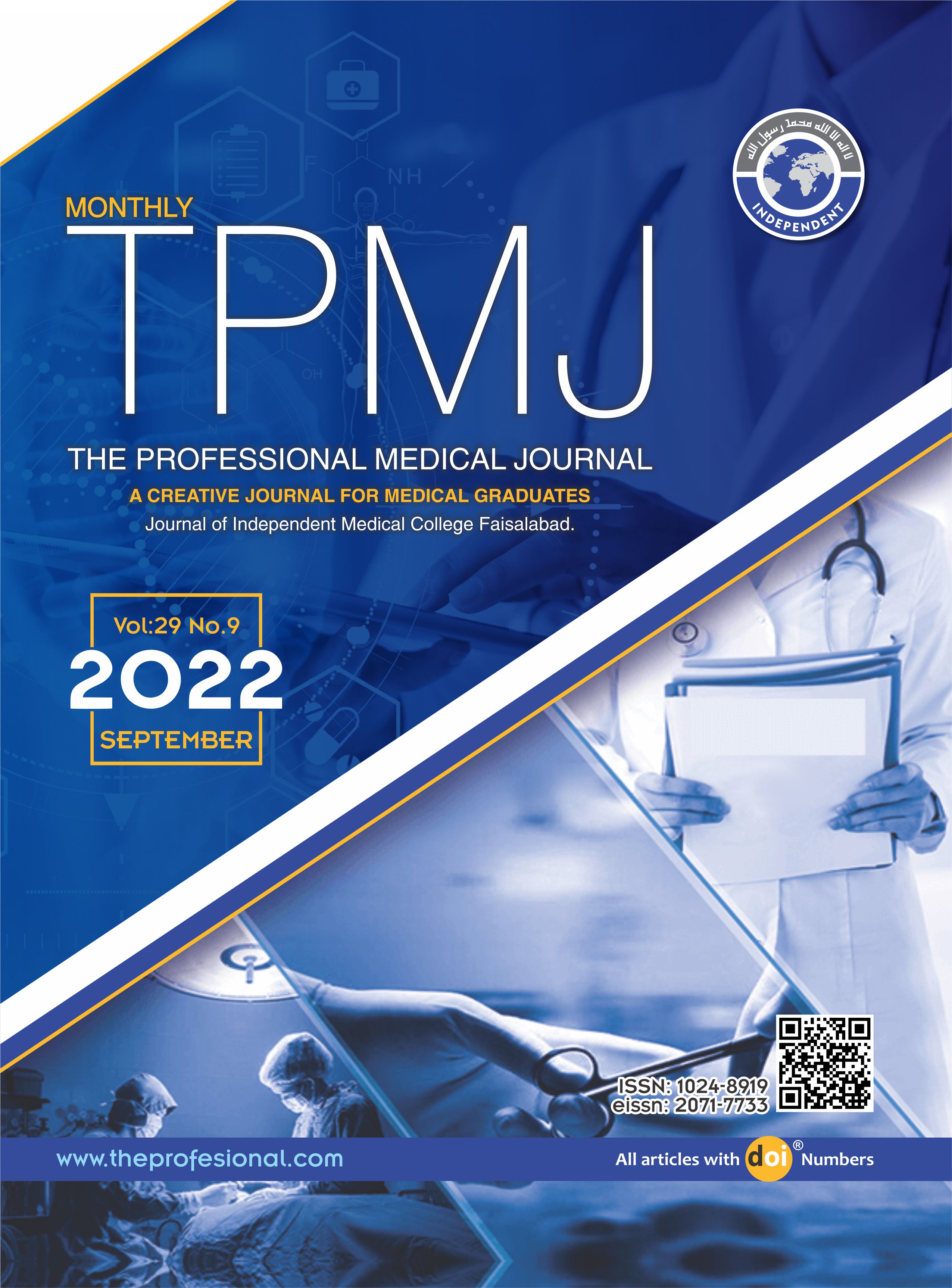 Downloads
License
Copyright (c) 2022 The Professional Medical Journal
This work is licensed under a Creative Commons Attribution-NonCommercial 4.0 International License.