Birth injuries, types and risk factors: A Study at Children Hospital Complex Multan.
Keywords:
Birth Injuries, Extracranial Bleed, Primigravida
Abstract
Objective: To identify the types and risk factors associated with birth injuries. Study Design: Observational study. Setting: Department of Neonatology, The Children's Hospital and the Institute of Child Health, Multan Pakistan. Period: November 2019 to July 2020. Material & Methods: A total of 52 neonates admitted in neonatology unit with birth injuries were included. Clinical examination was done to note possible birth injuries. Characteristics of neonates like gender, gestational age, body weight, maternal age and mode of delivery were calculated. Risk factors like difficult labour and instrumentation were described.  Pattern and types of birth injuries were highlighted. Results: In a total of 52 neonates with birth injuries, there were 39 (75.0%) male and 13 (25.0%) female representing a male to female of 3:1. Majority of the babies were term born 43 (82.7%). There were 27 (51.9%) babies weighing > 3000 grams. The highest incidence of birth injuries were recorded in normal vaginal deliveries and least in forceps deliveries. Difficult labour was the most common risk factor observed in 30 (57.7%) cases. Extracranial bleeds were seen in 23 (44.2%) neonates while soft tissue injuries were noted in 15 (28.8%) cases, Erb's paralysis was noted in 5 (9.61%) babies and fractures in 9 (17.3%) babies. Conclusion: Extracranial bleeds were the most common type of birth injuries, followed by soft tissue injuries, fractures and nerve injuries. Difficult labour was the most common risk factor associated with birth injuries.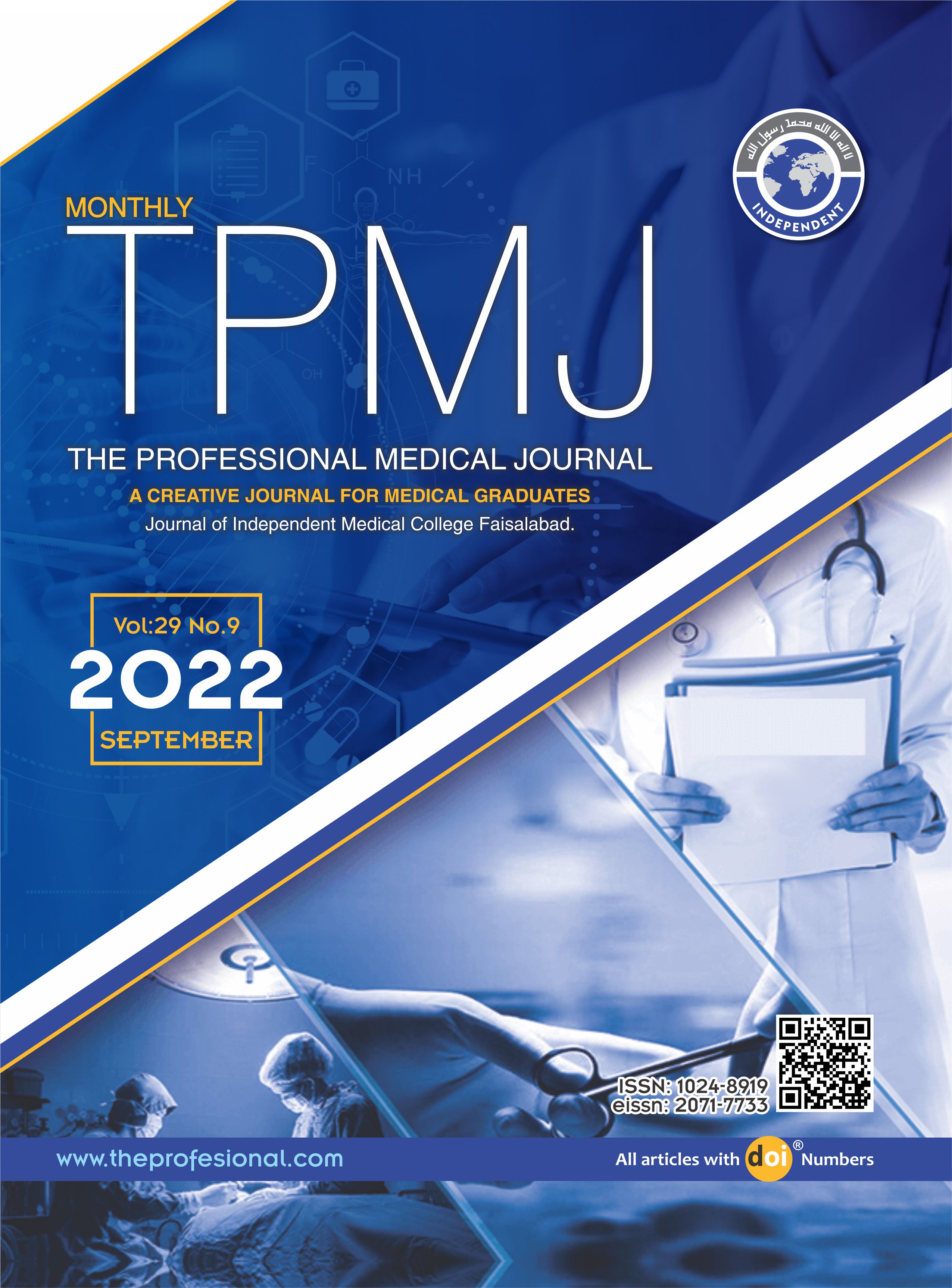 Downloads
License
Copyright (c) 2022 The Professional Medical Journal
This work is licensed under a Creative Commons Attribution-NonCommercial 4.0 International License.