Multisystem inflammatory syndrome (MIS-C) in Children on Kawasaki syndrome spectrum: What's new, Local regional experience from Pakistan.
Keywords:
MIS-C, Kawasaki Disease, SARS CoV-2, Pediatrics
Abstract
Objective: To describe the prevalence, clinical spectrum (Particularly cardiac) and treatment strategies of MIS-C. Study Design: Case Control study (prospective and retrospective surveillance). Setting: Children Hospital and Pediatric Medicine Department DHQ/Allied Hospital Faisalabad, Pakistan. Period: 15th March, 2017, to March 14th, 2020. Material & Methods: All patients with confirmed MIS-C/KD were enrolled and made two groups before and after the pandemic of SARS CoV-2. Results: A total of 6 patients before pandemic (group 1) and 18 patients after the pandemic (group 2) were studied over a period of 3 years. There is female dominance in group 1 and male dominance in group 2. Patients in group 2 presented at higher age (median 8y). Gastrointestinal symptoms (72.2%), Shock (11.2%) and LV dysfunction (11.1%) were more different features of MIS-C as compared to KD. There was more intense hyperinflation response was in MISC as compared to KD (CRP median 15.5 vs 78 and S/Ferritin median 725 vs 1889). Conclusion: MIS-C is on the Kawasaki disease spectrum in many ways both clinically and biochemical markers but the level of inflammation and immune response and severity of cardiac involvement were much bigger than KD. This should be in high consideration in perspective of new waves of SARS CoV-2.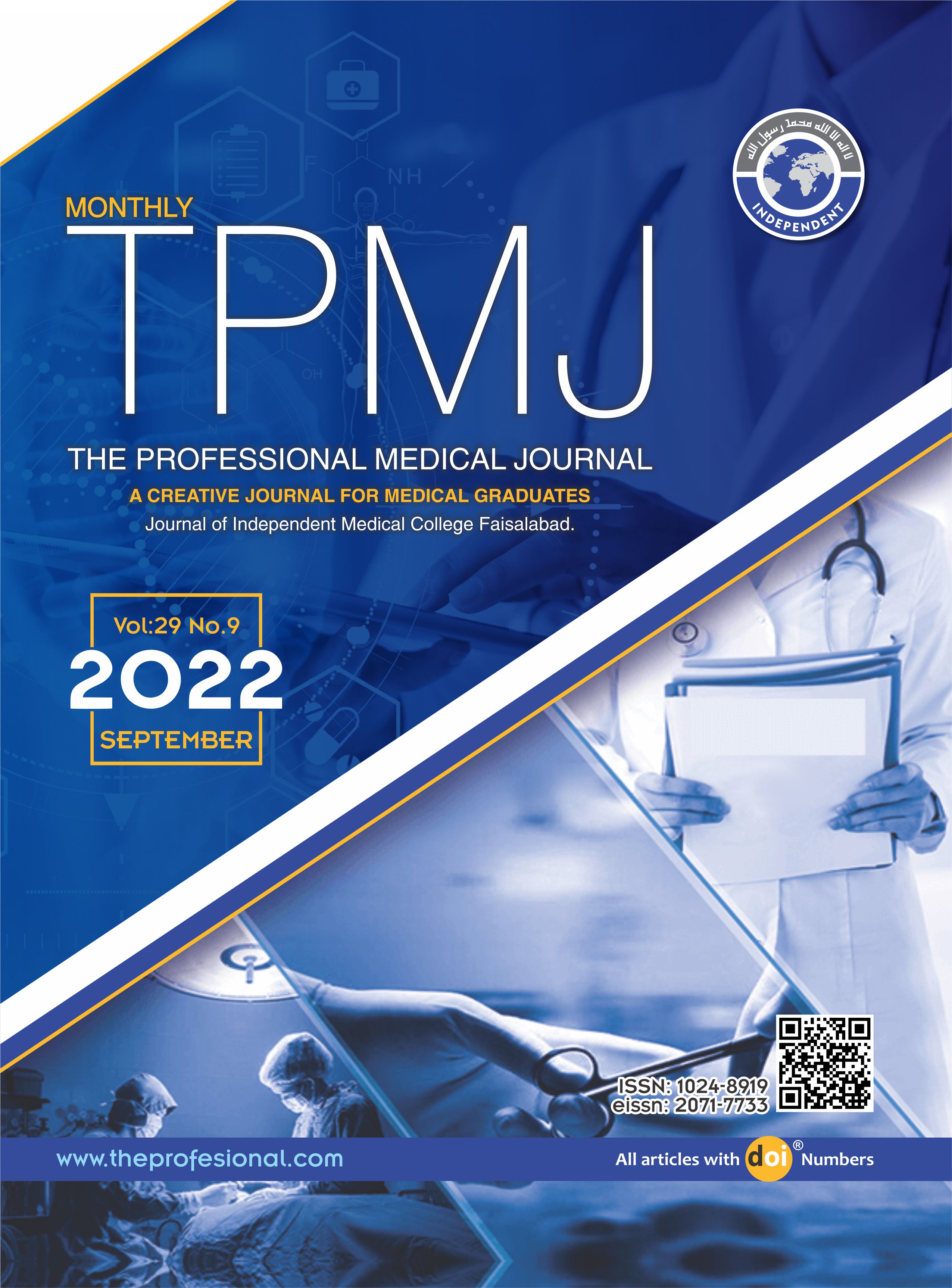 Downloads
License
Copyright (c) 2022 The Professional Medical Journal
This work is licensed under a Creative Commons Attribution-NonCommercial 4.0 International License.