PERFORATED PEPTIC ULCER DISEASE;
MODE OF PRESENTATION AND THE OUTCOME OF SURGICAL PROCEDURES ALONG WITH PROGNOSIS IN PATIENTS SUFFERING FROM PERFORATED PEPTIC ULCER DISEASE AT PMCH NAWABSHAH.
Keywords:
Perforated Peptic Ulcer, Graham's Patch, Primary Repair, Omentopexy
Abstract
Introduction: Peptic ulcer perforation is the most common surgical emergency and the leading cause of peritonitis with high morbidity and mortality in all age groups throughout world. It is more prevalent in developing countries than developed ones. Graham's Patch/omentopexy for duodenal perforation and simple closure along with tissue biopsy for the gastric perforation are the procedures of choice respectively. Objectives: To detect the mode of presentation and the outcomes of surgical procedures along with prognosis in patients suffering from perforated peptic ulcer. Study Design: Cross sectional study. Place and Duration of Study: Surgical Department of Peoples University of Medical & Health Science for Women Nawabshah, From January 2016 to December 2017. Methodology: All patients were admitted through OPD/Emergency. Patients presented with peritonitis having history of peptic ulcer disease were studied. X Ray chest/ X Ray abdomen Erect showed pnemoperitonium. Laparotomy and primary repair along with biopsy for gastric perforation and graham's patch for duodenal perforations were performed. Results: In our study, total 52 patients were included. Male Female ratio was 3.5:1.6. Mean age was 49 years. Majority of patients presented in 5th to 6th decade of their life. In 96% cases abdominal pain was the 1st symptom followed by vomiting and distension of abdomen. Different surgical procedures were performed and surgical site infection was the commonest complication in 37 (73%) patients in our study. Conclusion: Primary closure and graham's patch are the best choice as surgical procedures for the cases of gastric and duodenal ulcer perforations respectively.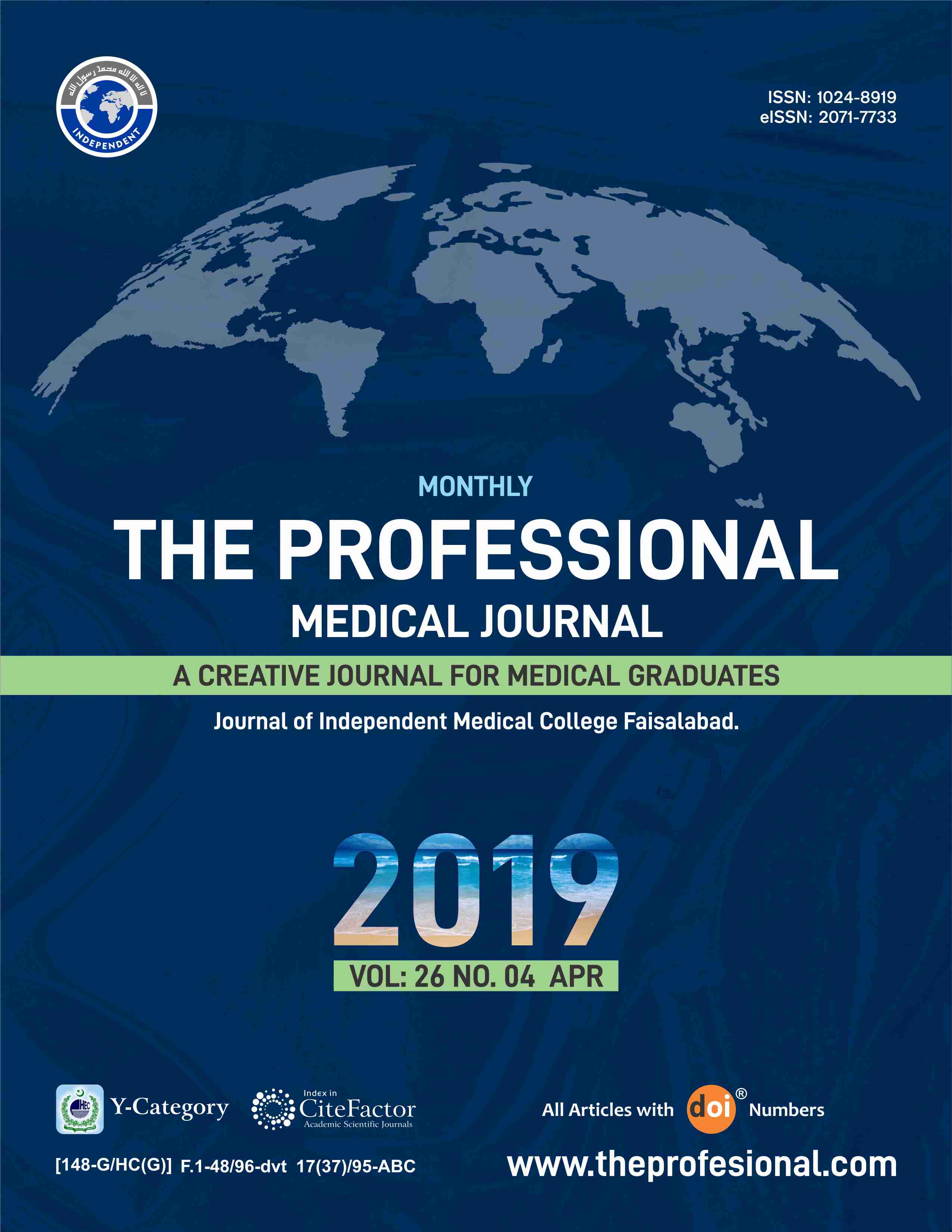 Downloads